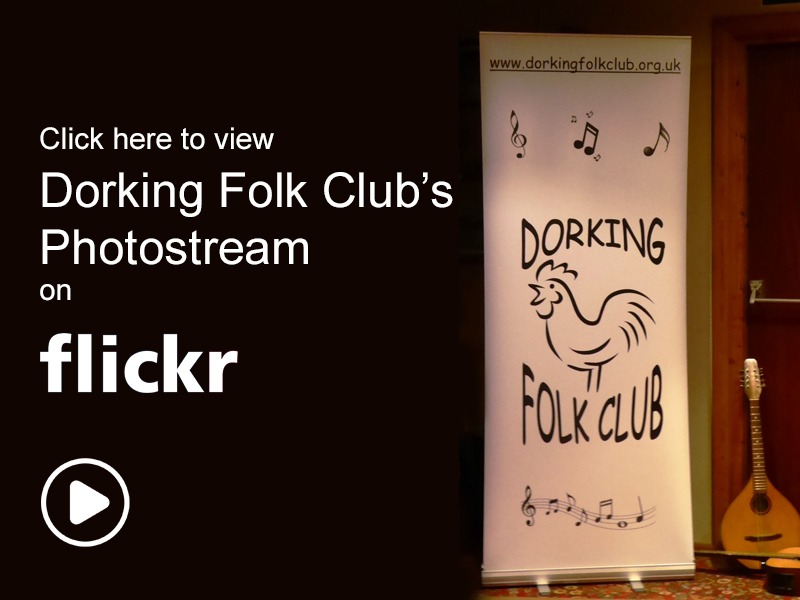 The club meets weekly on Wednesday nights from 8.30 pm and provides a venue within central Surrey (Dorking) where the very best traditional and acoustic musicians, small bands and singers can be heard, from the UK and often from further afield (USA, Australia). The club was formed in May 1976 and although it has been through a few metamorphoses, name changes and has had different venues over the years, it has always been successful in bringing acoustic and traditional music to Dorking since that time. We aim to keep folk and acoustic music live and available and to support live artists – they need you and you are always guaranteed a great evening's entertainment.
There is a door charge for entry, which varies according to the programme. An annual membership fee gives a reduction on the entry charge to all guest nights, but you don't have to be a member or pay membership fee to come along on any evening.
There are generally two types of evening, as noted in the programme:

GUEST NIGHTS


Over the past few years we have enjoyed a whole host of well known artists: John Renbourn, Richard Digance, Andy Cutting, Clive Carroll, Davey Arthur (ex-Fureys), Nancy Kerr & James Fagan, Dave Burland, Tom McConville, Eddie Walker, Jez Lowe, Martin Simpson, Mike Wilson & Damien Barber, Jim Causley, Alistair Anderson & Dan Walsh, Pilgrims Way, Martin Carthy, Steve Tilston, Spiers and Boden (Bellowhead), Les Barker, Vin Garbutt, Karen Tweed & Roger Wilson, Tim Van Eyken, The Young'uns and many many more, too numerous to list.

The Club also showcases rising new talent, so you often get the opportunity to see the stars of tomorrow here today.

Dorking Folk Club's regular Singers' Nights showcase performances by our talented members and visitors in a friendly informal environment.
Open to any acoustic performers who wish to present one or two items for everyone's enjoyment, in a floor spot taking no more than 10 minutes.
For the audience each Singers' Night is unique and provides a great evening's entertainment of surprising quality and variety. Admission is just £3 (covering the cost of room hire).
If you have not attended a Singers' Night we encourage you to give it a try. We look forward to seeing you soon!! But these nights can get busy, so if you are keen to perform, please arrive in good time & let the door person know.

An article about Dorking Folk Club was published in the Vantage Point magazine in December 2014. Click here to read a copy of the article.